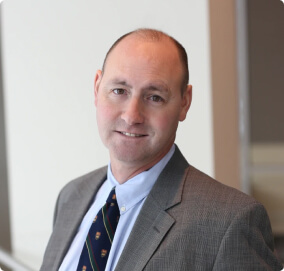 Valuation & Advisory Services
Mr. Marinac is a Principal and Co-Founder of GTRE Commercial Valuation & Advisory Services, based in Edina, Minnesota. He has over 22 years of real estate and financial management experience.
Appraisal experience has been in the preparation of real estate appraisals, feasibility studies, rent analyses, and market studies of commercial, industrial, multifamily residential and special use properties. Primary geographical focus is in the Twin Cities metropolitan area, however Mr. Marinac has significant experience throughout Minnesota, the upper Midwest as well as nationally.
Residential real estate experience includes the preparation of over 1,000 appraisal reports including single family, townhome, condominium, subdivisions, and land valuation.
Mr. Marinac also serves as an appointed Commissioner on the Minneapolis Board of Equalization regarding real property tax petitions and has served as an appointed Commissioner for Hennepin County.
Bachelor of Liberal Arts, Gustavus Adolphus College, St. Peter, MN
Bachelor of Science, Winona State University, Winona, MN
Certified General Real Property Appraiser: State of Minnesota (No. 20189751)
State Certified General Appraiser: State of North Dakota (No. CG-21505)
Appraisal Institute – Designated Member (MAI)
Appointed Commissioner – Minneapolis Board of Equalization (2007-current)
Appointed Commissioner-Hennepin County
Board of Directors – Lake Community Bank
Board of Directors – Appraisal Institute, Northstar Chapter
2015-current
Principal and Co-Founder, GTRE Commercial, LLC, Edina
2005-current
Principal, Nokomis Appraisals, Minneapolis
2005-2015
First Vice President, Senior Real Estate Analyst, CBRE, Inc.
2003-2004
Appraiser, Colliers Turley Martin Tucker, Minneapolis
1999-2003
Associate Appraiser, Nicollet Partners, Minneapolis
1995-1999
Sales Consultant, Colorspan Corporation, Eden Prairie
1993-1995
Branch Manager, TransAmerica Financial, Minneapolis